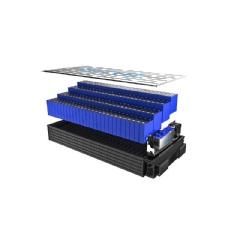 BMW i Ventures announces investment in Battery Startup Our Next Energy.
BMW i Ventures today announced an investment in Our Next Energy Inc. (ONE), a Michigan-based energy storage solutions company working to develop longer-range, lower-cost batteries for electric vehicles. .
?? Our Next Energy strives to fundamentally reinvent the battery while focusing on sustainability, safety and cost; three key factors that will help accelerate the development and adoption of battery electric vehicles? said Baris Guzel, partner at BMW i Ventures. ?? We are convinced that Our Next Energy has the potential to truly transform the space, and we couldn't be more excited to join their journey. ??
ONE demonstrated two proprietary technologies ?? the first, called "Aries", uses lithium iron phosphate (LFP) chemistry in an advanced cell-to-package architecture, achieving very high cell-to-package ratios and energy density at the system level. This translates into increased battery range and lower costs while eliminating nickel and cobalt based chemicals. The second, nicknamed ?? Gemini, ?? uses ONE's proprietary energy and chemistry management system in a dual battery runtime extension architecture.
?? BMW i Ventures has a proven track record of successfully collaborating with startups with cutting edge technology to shape future mobility, ?? said Mujeeb Ijaz, CEO and Founder of Our Next Energy. ?? We are excited to collaborate with Baris and his team as we work to demonstrate our core technologies. ??
Our Next Energy will use the investment to increase production of its first products.
About BMW i Ventures
BMW i Ventures is BMW's venture capital firm, investing money and resources in startups in transportation, manufacturing, supply chain and sustainability. The company has made many successful investments over the years in companies such as AutoFi, Chargepoint, Graphcore, Urgently, Proterra, PureCycle, Solid Power, Tekion, Turntide, Xometry and Zum. BMW i Ventures invests in all stages, from seed to growth, with a focus on the A / B series.
About our next energy
Our Next Energy Inc. (ONE) is a Michigan-based developer of innovative energy storage solutions with a vision to rapidly expand the world's access to sustainable energy. Founded in 2020 by Mujeeb Ijaz, a battery systems engineer with over 30 years of experience, ONE and its team of experienced battery engineers focus on safer battery chemistries that use the most sustainable raw materials throughout by creating a reliable, low-cost and adversarial environment. free supply chain. Visit un.ai to learn more.
BMW Group in America
BMW of North America, LLC has had a presence in the United States since 1975. Rolls-Royce Motor Cars NA, LLC began distributing vehicles in 2003. The BMW Group in the United States has grown to include marketing organizations, sales and financial services for the BMW brand of motor vehicles, including motorcycles, the MINI brand and Rolls-Royce Motor Cars; Designworks, a California-based strategic design consultancy; a technology office in Silicon Valley and various other operations across the country. BMW Manufacturing Co., LLC in South Carolina is the BMW Group's global competence center for BMW X models and manufactures the X3, X4, X5, X6 and X7 sports activity vehicles. The BMW Group sales organization is represented in the United States through networks of 350 BMW passenger car and BMW sports activity centers, 144 BMW motorcycle retailers, 112 MINI passenger car dealers and 38 Rolls-Royce Motor Car dealers. BMW (US) Holding Corp., the BMW group's sales headquarters for North America, is located in Woodcliff Lake, New Jersey.
www.bmwgroup.com
Facebook: http://www.facebook.com/BMWGroup
Twitter: http://twitter.com/BMWGroup
YouTube: http://www.youtube.com/BMWGroupview
Google+: http://googleplus.bmwgroup.com
Journalist's Note: Information about BMW Group and its products in the United States is available to journalists online at www.bmwusanews.com, www.miniusanews.com and www.press.bmwna.com.
This news content was configured by the editorial staff of WebWire. Linking is allowed.
Press release distribution and press release distribution services provided by WebWire.