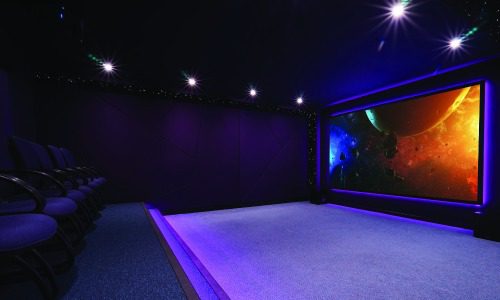 British children's hospital wins high-tech multimedia room thanks to local integrators
The charity Together For Cinema's first contact with UK-based children's palliative care group Forget Me Not dates back ten years. Ian Morrish of Together For Cinema and his organization have been connecting bespoke industry facilities, integrators and manufacturers in charity projects for years.
"Unfortunately, this first contact did not yield anything, and it was not until January 2020 that we made contact a second time. Again, this is because a Forget Me staff member did not see one of our facilities, the fabulous Derian House Children's Hospice movie theater in Chorley, "Morrish said of what recently became the organization's 26th completed project. .
Eventually getting around pandemic disruption, Together For Cinema and Forget Me Not finally opened the new media room two months ago.
The integration firm of the CEDIA board member assists
Melanie Malcolm, director of UK integrator Bespoke Home Cinemas who also sits on CEDIA's global board, joined Together For Cinema's steering committee in 2019. And luckily for Forget Me Not, Bespoke Home Cinemas is in Leeds and Malcolm had always been on the lookout for an Installation of Together For Cinema if the opportunity arose.
"So when I was contacted in January 2020 by one of the Forget Me Not teams, the game was easy and Melanie thankfully made a commitment that her team would take care of the setup," Morrish said. .
Despite the COVID-19 closures, in late summer 2020, Melanie and her husband Gifford Malcom, managing director of Bespoke Home Cinemas, were able to visit Forget Me Not and see the venue proposed for the cinema installation, says Morrish. The room proposed for the construction of the theater served as a meeting room and had a commissioned graffiti style mural on a wall to mark the original opening of the hospice and it was a request that this work of art be maintained in square.
There were a few design challenges, but eventually the final design was approved and an ambitious equipment list was drawn up, Morrish says. This included Starscape lighting effects, Epson 4K projector, new Cinema Build Systems halo cinema screen with LED, Sony Blu-ray player, Monitor Audio speakers, Denon AVR, Control4 controls, motorized shades QMotion, Rako lighting control, HDANYWHERE cabling, fabric wall acoustic system and more. Notes Morrish, "A truly ambitious demand from the AV industry, but one that we thought we could achieve."
The hospice will not forget the "absolutely fabulous" work
The project was spread over a three-week period due to other work scheduled by Bespoke, but the actual installation only took six physical business days, Morrish said of the team's extra effort. On August 6, the hospice hosted a grand official opening of the cinema hall.
"I am delighted to report that this has been stuck between various film screenings scheduled for children," Morrish said.
While the number of industry attendees had to be reduced due to concerns about COVID-19 and travel logistics, the event still filled Forget Me Not with a dynamic period. "Needless to say," he adds, "the demo we got from Gifford was" absolutely fabulous "and really reflects all the hard work that went into making the piece as beautiful as it is. "
Click here to see more photos of the new Ensemble pour le cinéma multimedia room installed!