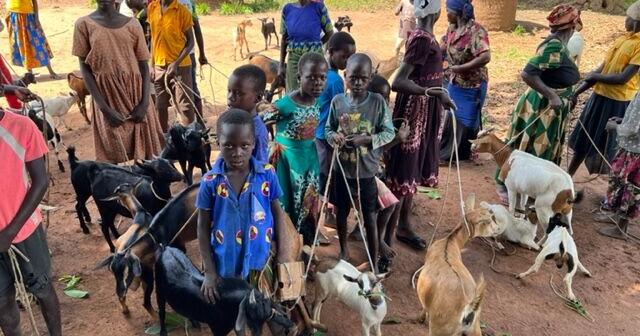 Local Couple's Charity Efforts Thrive in Uganda | Highlighted
I was hungry and you gave me food, I was thirsty and you gave me drink, I was a stranger and you invited me, I needed clothes and you dressed me , I was sick and you took care of me, I was in prison and you visited me. Matthew 25:35-36
Joy. It is the overwhelming response of Ugandan villagers to the blessings that have been brought to them through the generosity of Imperial Valley donors and their support of Burning Bush International Uganda.
Based on the scriptures of Matthew, Jim Rhodes and his wife, Nancie, established BBI Uganda in 2012 to bring the gospel and humanitarian relief to Eastern Uganda. Since then, the organization has provided clean water sources and the tools to help people lift themselves out of poverty.
Rhodes was able to visit the country from April 19 to May 7 to see the good works brought about by his ministry. He had been unable to visit the country and BBI partner Eric Sabiit or review projects in person since late 2019 due to the COVID-19 pandemic.
He was greeted by villagers dressed in their brightly colored clothes as they danced, sang and expressed their joy for the blessings they had received and its impact on their lives. It was a particular pleasure, said Rhodes, to be present for the celebrations. Each ceremony lasts two to three hours, usually with several hundred villagers in attendance. "A great moment is always passed by all."
It is estimated that nearly 8 million people in Uganda live in remote villages without access to safe drinking water and the hardships that come with it. Thanks to the generosity of Imperial Valley residents, a total of 34 wells have been funded, with another 12 added over the past two years.
"Water is the most important thing we can do for these neglected villages," Rhodes said. "These wells are making a huge difference in the lives of thousands of people in remote villages. Villagers, who in the past had to walk long distances just to fetch dirty water, now have a source of drinking water nearby. (It means) better health, a source of water for themselves and their animals and irrigation for their home gardens, and time saved so children can attend school more regularly. It also brings hope to a village…changes their mindset that has faced illness and death from contaminated water.
When a village receives a nearby clean water source, BBI Uganda's attention turns to programs that help villagers improve their lives in other ways.
One such program, Goats for Orphans, provides goats to underprivileged children to help lift them out of poverty. Over time, children build up their herds of goats so they can "trade" for cows. In Uganda, goats and cows are highly valued and provide children with resources to fund higher education beyond grade seven. One of the advantages of goats is that they don't need a special diet, but can simply graze on native plants and bushes in the area. By giving the goats to the children, it is clear that they are for the long term benefit of the children and should not become a source of food.
Rhodes visited several of these villages, meeting the children and admiring their animals. Started more than six years ago, it has become a very successful anti-poverty project, he noted.
BBI Uganda also supports education and training and job creation to help villagers improve their lives and those of their families.
During her recent visit to Uganda, Rhodes met Lucy, a recent graduate of the two-year sewing skills program at Baptist Technical Training School in Kumi. Her training was funded by BBI and a sewing machine was bought for her so she could apply her skills in her village and in the nearby shopping mall.
Rhodes also met Jackson, a recent graduate of the Kumi School, who received his construction training. He is now employed on a major construction project at a nearby high school.
"Both are very grateful for the assistance provided to them by BBI and Eric's ministry," Rhodes said. "Now Lucy and Jackson are helping family members pay for school fees and food."
BBI has also sponsored the university education of talented young people at the Livingstone International University (LIU) in Mbale. This university was founded by Christian churches in the United States about 15 years ago.
For example, Florence graduated from LIU with honors in business management. A mother of a baby boy, she started a retail business, selling baby clothes to families in the Kampala area.
It's important to point out that when BBI helps "one" person, it actually helps many others, Rhodes said. In Uganda, life is very difficult, so when one person in a family receives income, parents, siblings and other family members benefit.
Additionally, Rhodes met Julius and Frances, BBI scholarship graduates. Last year, they completed the three-year teaching program at LIU. They are now applying their teaching skills in public secondary schools near their home villages and doing very well.
BBI also supports education through the renovation of blackboards in village primary schools. Classroom instruction in Uganda involves teachers writing on blackboards and students copying them into their notebooks, so BBI has focused on improving blackboards in villages that have received well.
Although his trip was short, Rhodes was able to visit the beneficiaries of another program: the micro-loan groups.
"There are many success stories from our microlending groups," Rhodes said. For example, through her savings group, a woman who runs a small roadside shop was able to get a loan to buy a machine that grinds peanuts to make peanut butter. She also used a loan to expand her pig farming business. Traditional banks wouldn't work with her, but her savings group is helping her succeed.
Medical support services for the sick and underprivileged have been an outreach focus of BBI since its inception. As resources allow, BBI and Sabiit serve the health needs of indigents who come to Tororo Hospital and Mukuju AIDS Clinic but cannot pay for services. Nutritious meals and medicines are also distributed to patients, and education is provided to help people learn how to stay healthy.
During her visit, Rhodes met two now healthy children, who came to the clinic suffering from severe malnutrition. He also met former patients who recovered from open fractures, skin infections and life-threatening infection due to miscarriage. All are healthy now following the intervention of Sabitt's ministry, funded by BBI.
In another program, BBI distributed dresses to 100 girls in each of the five villages that received new wells nearly two years ago. The dresses were handmade by many ladies in the Imperial Valley and the girls love them, Rhodes said.
Another important part of BBI Uganda's ministry is bringing the gospel to inmates. The shadow of Covid-19 continues to cast a cloud over Sabiit's ability to deal more fully with prisons near Tororo, Uganda. However, Rhodes and his accompanying group were able to attend church services at a small prison in Mayuge, Uganda, with around 100 prisoners. During the service, about fifteen prisoners responded to the call to follow Christ.
Rhodes concluded, "It has been a pleasure to be able to travel to Uganda and see firsthand the impact Burning Bush International and its many donors are having on the lives of people in this impoverished country. He especially enjoyed seeing and participating in the festivities as the people there celebrated the blessings that have enriched their lives and lifted them and their families out of poverty.
"We praise God that so many people in the Imperial Valley support this ministry," he said.
A total of $121,059 was raised in 2021 for the work of the organization through local contributions, community donations and fundraising efforts.
For more information about BBI Uganda, visit www.bbiuganda.org.