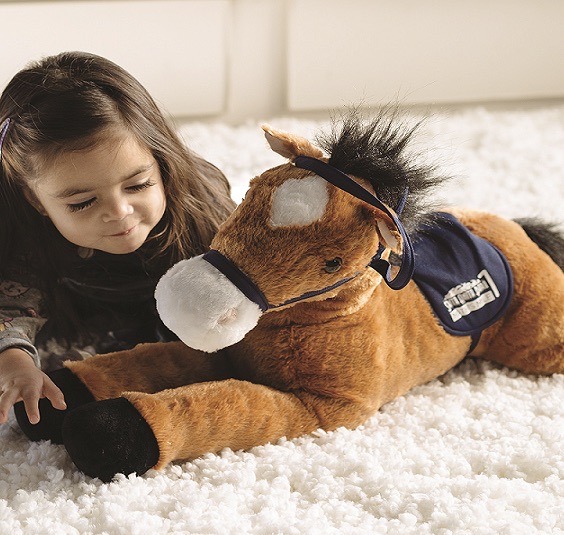 Mathis Plush Horse Donations Net CARMA & Tracking $ 25K
ARCADIA, Calif .– Thanks to generous donations from thousands of fans on Opening Day, December 26, the popular stuffed horse Mathis, which was available for a $ 20 donation, raised a total of $ 25,000 for California Retirement Management Account (CARMA) and Thoroughbred Tracking.
In addition to the stuffed horse, Opening Day fans also received a water bottle or Mathis Mile hat. With 100 percent of the proceeds going directly to CARMA, this event was a huge success and Mathis and Santa Anita Park have already pledged to do the same promotion next year.
"We are delighted to have raised $ 25,000 for CARMA, a non-profit organization that will ensure that every racehorse has a bright future after the race," said Bill Mathis, President of Mathis Brothers. "With the thousands of fans who attended the Santa Anita Opening Day, Mathis Brothers are proud to have helped put the horse first."
For his part, Santa Anita Senior Vice President and General Manager Nate Newby echoed the sentiments expressed by Bill Mathis.
"We cannot thank our fans and Mathis Brothers enough for their tremendous support of thoroughbred tracking," said Newby. "Every dollar raised through this promotion goes directly to CARMA to support the rehabilitation, recycling and retirement of California Thoroughbreds."
Professor of Law – Mathis Mile (Benoit Photos)
The Grade II Mathis Mile, which transferred from the turf to the main track on opening day, was won by Michael McCarthy-trained law professor who paid $ 10.20 under Jose Ortiz. Owned by Twin Creeks Racing Stables, LLC, the law professor completed a mile on a fast track in 1: 37.41.
Santa Anita press release
Photo by Benoit Photos