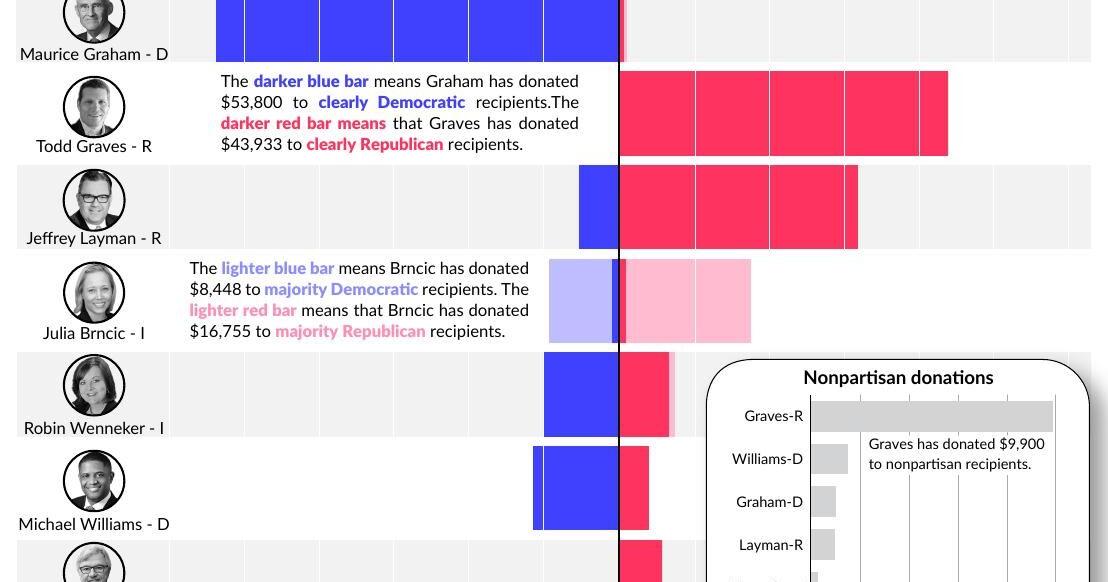 Politics in education: Missouri conservatives have a long history of donating campaign money | News
On December 26, 2019, Columbia resident Robin Wenneker donated $750 to Governor Mike Parson's re-election campaign.
But less than two months later, when Parson made two appointments to the University of Missouri's Board of System Curators, he chose Wenneker for one of the positions.
Parson's other board appointment at the time was Greg Hoberock, a construction company executive and prolific Republican donor who donated more than $450,000 to politicians and causes over the course of the last decade.
Just over a year later, Parson named Todd Graves, the former Missouri Republican Party chairman, to the board despite bipartisan opposition. Graves donated nearly $54,000.
These board picks show how politically active and affiliated the Conservatives are, even if their most senior board member insists otherwise.
Over the past 10 years, eight of the nine conservatives have collectively donated more than $670,000 to various politicians and lobby groups, according to a Missouri review of state and federal archives.
Donation records provide a snapshot of Tory political activity amid what one expert has called a national "wake-up" to the actions and politics of education governing bodies.
"People are also thinking, 'Oh, can boards do this?'" said Felecia Commodore, a graduate professor at Old Dominion University in Virginia. "A lot of people had no idea who these people are, how they became, what they do."
Curators oversee the four public universities that make up the UM system.
Individual curators were not made available for interviews for this story and could not be reached directly for comment. Board Chair Darryl Chatman, on behalf of the entire board, provided brief responses to questions via email through a university spokesperson.
Asked about the extent to which the Conservatives view their appointments as partisan roles and what role politics or party affiliations play in decision-making, Chatman wrote simply, "None."
The basics of the board
The Conservatives' mission is to promote learning, support economic development, and advance "the health, cultural, and social interests of the people of Missouri, the nation, and the world," according to the group's mission statement.
But the reality is that the group of nine women and men are politically active residents.
A curator, Julia Brncic, through a university spokesperson, said she had donated to two political action committees at the federal level because of their support for health care affordable and that it retained no decision-making power within these CAPs. One curator, Chatman, made no donations.
These partisan affiliations are sometimes part of the identity of conservatives, but partisan statements are at the heart of the council. Its statutes stipulate that there cannot be more than five members of the same party.
Each of Missouri's eight congressional districts must also have a representative on the council.
Currently, the council includes four Republicans, three Democrats and two independents.
Two conservatives – Brncic, an independent, and Maurice Graham, a Democrat – remain on the board more than a year after their terms expired. State law allows conservatives to continue serving until Parson appoints a replacement.
A spokesperson for the governor's office said Parson plans to "review" nominations to the board of curators later in the spring or after the end of the academic year.
This nomination process can become a highly political operation in itself.
Last year, a bipartisan filibuster delayed Senate confirmation of Graves, who served as Missouri's Republican Party chairman as recently as 2019.
"Politics is everywhere"
On January 11, the Conservatives held a special meeting to discuss reinstating a two-week temporary mask requirement for the four campuses in the UM system.
System President and MU Chancellor Mun Choi presented two slightly different demands to the board, both carrying his recommendation.
(Schmitt did not sue Missouri's public universities, most of which have required masks to some degree.)
The board took two votes on Choi's recommendations. Both came up short, 6-3 and 7-2.
The first vote generally took place along party lines. In favor of reinstating a mask requirement, two Democrats and one independent. All four Republicans, one independent and one Democrat — Chatman — rejected the measure.
These public health decisions, now in the hands of an education-focused governing body, are part of why more academic players have their eyes on council activity, an expert has said.
"Frankly, some teachers said, 'Wait, how were these decisions about our lives made? ", Commodore said. "Now people are like, 'Oh, this little group of people can make a decision that could impact my whole life.'"
As the Tories discussed bringing back the mask requirement, Hoberock raised the issue of priorities.
"What's the driving problem here?" He asked. "Are we trying to protect the health of all of Columbia County and Boone or keep our campus open?"
Asked how conservatives balance the priorities of the UM system, the state, and their own views, Chatman said "all relevant factors are considered in the case-by-case decision-making process."
In the eyes of at least one Missouri state senator, those factors would include the expectations of lawmakers.
As the Senate debated Graves' appointment to the board last year, Sen. Paul Wieland, R-Imperial, called the now-conservative "glib" and questioned how accountable he would be to The politicians.
"It concerns me a lot," Wieland said at the time. "In the future, should a situation arise with the university, can we expect this nominee to respond to the Missouri Senate?"
Commodore argues that such political circumstances are unavoidable but distract from a board's mission.
"Politics is everywhere, isn't it? So I'm not like, 'Oh, there shouldn't be political appointees' – that's just unrealistic," she said. "But the primary concern or motivation behind what you do or what you stand for should be the needs of the institution, not necessarily the entity that put you in that position."
But that, she says, may not be as simple as trying to avoid politics, which might be inherent in the function of a council.
"Board members often try to be objective themselves, the reality is that higher education institutions don't exist in a vacuum," Commodore said. "They exist in a larger ecosystem and a larger society, and in particular public institutions grapple with state politics, state culture, sentiments and ideologies that are native to that state. "