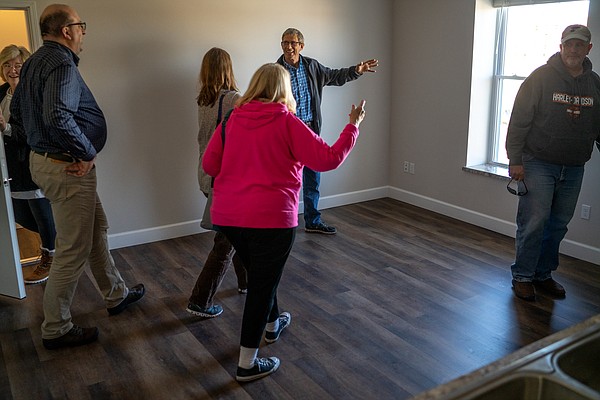 Transformational Housing Project meets after donations and volunteer hours
After extensive renovations, the first Transformational Housing building was opened for viewing on Saturday, and it was filled with all the people who helped it cross the finish line.
The house is the culmination of an effort by Jefferson City religious leaders to create an apartment building to help those in poverty. It was donated to Transformational Housing by its previous owner after being badly damaged in a kitchen fire.
Thanks to donations and the work of hundreds of Jefferson City volunteers, including church groups, retired nuclear power plant engineers, sports teams, and Lincoln students, it was remodeled.
The renovation materials required approximately $310,000 in donations, as well as the labor of 25 regular volunteers and nearly a hundred more as needed.
John Blosser, who helped with much of the renovation, said instead of starting from square one: "We actually started from square 10, went back to square one, then arrived (where we are) because we had to tear everything down first."
Just the day before, Blosser said, they hauled the 18th 30-cubic-yard dumpster.
The Cherry Street building houses a three-
one bedroom, three two-bedroom units, and one one-room unit, all with a common area and kitchen, and at least one full bathroom.
Transformational Housing is a time-limited program that requires residents to enroll in programs that will help them overcome poverty. The building will hold four families at a below-market rate and one at a market rate, which aims to help people from different backgrounds interact.
Verlee Hitzhusen is on the committee looking for families to fill the units, and she said potential tenants must be low-income and have difficulty paying
market rent.
Mark Kiekhaefer, a pastor involved in the project, said the project started when a group of religious leaders came together to discuss how they could help after the
tornado. After realizing that much of what had been destroyed was rental housing, the group determined that was where they would turn their attention.
The objective is to help those who have financial difficulties to get better.
The hope, Kiekhaefer said, is that "what happened with the building will happen with the people who live here: in other words, there will be a renovation."
Part of this transformational goal is to provide "coaches" to help residents achieve their goals in three areas: personal, financial and spiritual. Each family will have two coaches. The family in the market-priced apartment will not have coaches, but will be expected to participate in monthly building-wide meals.
"We think it's in relationship, when you connect with people from all economic backgrounds, that helps bring about change and support each other," said Karen Taylor, another pastor involved. in the project.
Hitzhusen said residents of the building will also have to take care of the building through different jobs – cleaning the stairs, sweeping the porch and taking out the trash. She said she also hopes it will provide opportunities for communication and cooperation among residents.
She said residents will likely be in the building by mid-March.