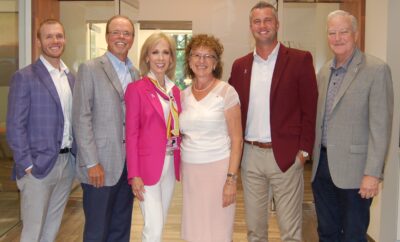 Woodforest Charitable Foundation pledges $2.5 million for naming rights for new Children's Safe Harbor building
MONTGOMERY COUNTY, TX – Demonstrating its heart for the community, the Woodforest Charitable Foundation recently presented the first installment of a $2.5 million pledge that was launched last fall for naming rights for the new building co-located expanded Children's Safe Harbor (CSH) in Conroe. The Woodforest Charitable Foundation began supporting CSH in 2009 and has donated funds steadily for the past 13 years.
The Woodforest Charitable Foundation is dedicated to enriching lives and communities through social and public service programs. The Foundation supports 501(c)(3) charities in communities in 17 states served by Woodforest National Bank. These charitable causes include the fight against hunger – especially child hunger; improving health care for low-income families, the uninsured and underinsured; housing for the working poor and disabled veterans; youth education; and family support to empower those who are disadvantaged, abused, neglected and/or considered at risk.
Advertising
CSH is a non-profit advocacy center that provides specialized services to child victims aged 2-17 years in response to trauma resulting from severe physical abuse, sexual assault, sexual trafficking and exploitation, neglect or witnessing violence. Responding to an ever-increasing number of forensic interviews each year – with 2,398 children served in 2021 alone – CSH has significantly outgrown its current facility and will open a new building at an expanded site in Conroe this fall.
Kim Marling, Executive Vice President of the Woodforest Charitable Foundation, said, "Can we make a difference in preventing child abuse and the trauma that goes with it? I believe the answer is yes.' It starts with awareness, having open conversations, and knowing who to turn to if there is suspicion or an allegation of abuse. Children's Safe Harbor provides essential services to these innocent victims. These services are really essential for a successful recovery. We have supported CSH for many years and have seen the incredible work they do in helping children and adolescents overcome abuse and overcome their emotional scars. We are confident that our 2021 commitment to Children's Safe Harbor will have a meaningful impact on their mission and hope that many more will choose to take action to end child abuse and support CSH.
Advertising
Victoria Constance, MSPH, Ph.D., Executive Director of CSH, added, "The support our children's advocacy center has received from the Woodforest Charitable Foundation over the years has been immeasurable. While it is true that child abuse, especially sexual assault, is a difficult topic that no one wants to discuss, we are grateful for the continued support the Foundation has provided in all aspects of our success. In turn, we continue to make great strides to help and heal these young victims and their families to pave the way for hope and light to move forward in their lives. We are extremely grateful for the Woodforest Charitable Foundation's longstanding partnership and investment in our journey to end child abuse. It's not just a building, it's a gateway.
Children's Safe Harbor is a 501c3 non-profit corporation. For more information, visit www.ChildrensSafeHarbor.org.
For more information about Woodforest Charitable Foundation, visit www.WoodforestCharitableFoundation.org. For more information on the capital campaign, visit www.ChildrensSafeHarbor.org/Capital-Campaign. If you think a child is in immediate danger, call 911 or (800) 252-5400 for the Texas Child Abuse Hotline.
Advertising